Finally I'm making time to post a few pictures and let everyone know that the Hamilton VanderKwaak's are doing great! Eden is now 7 months old already – I can't believe how fast time seems to be going. She can roll over but only does it occasionally and only when she really wants something out of her reach. She is very content just sitting on the floor or laying on the floor or strapped to one of us in a baby carrier. She has caught up on her weight and is still growing of course. She is eating solids and likes to eat anything with a little spice to it. Sometimes she gives us this face throughout dinner as she savours the food:

Here are a couple of six month pictures taken about a week or two ago:
And here we are with her: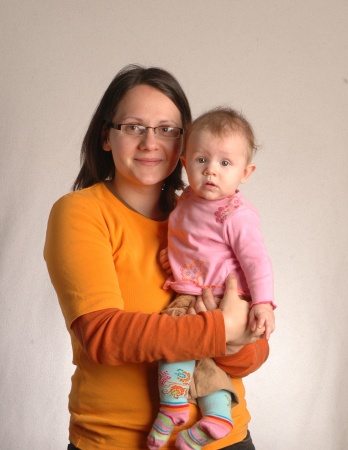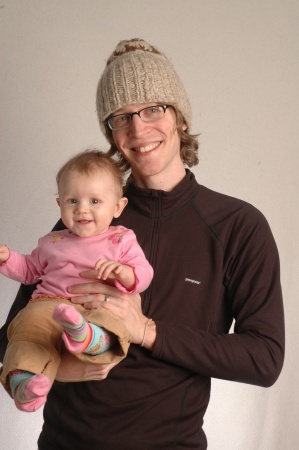 Let's see, what else has been going on…. Reuben is really enjoying his job… it snowed a lot… we put up our Christmas tree… Reuben has joined a group in Hamilton proposing a light rail system to the City as their next transportation initiative and I have joined an environment focused team with other members from other downtown churches…
One thing that hasn't been going on are any large scale renovations. We are only doing some cosmetic and functional things like organizing closets and preparing our large room upstairs for paint which will happen in the next few weeks.
Another piece of news: I have, through my volunteering at Micah House (a refugee shelter), made friends with a woman who is now 37 weeks pregnant. This woman doesn't have any family and is all alone in a new country (though her community is expanding rapidly through many friendships). Another friend and I have the privilege of coaching her during labour and delivery. We have been helping her get to appointments and we'll be helping her move to an apartment this week. My heart goes out to her. I can't imagine being a single mom. Let alone a single mom with no family and in a new country! I am looking forward to helping her and her baby and watching Eden and her new friend grow up together.