Our attiic renovation is pretty much finished! Heidi's sister moved in a couple of weeks ago and there are only a few small projects left until we can offically declare that the project is over.
When we moved into our house a year and a half ago there was an in-law suite apartment in the attic that was in pretty poor shape. There were lots of issues including structural, electrical, plumbing, and most of all aesthetic. We knew we wanted to fix it up, but we had no idea the length we would eventually go to get a product we were happy with.
In the end we completely gutted the area and started from scratch. In the process we redid all the electrical in our house, insulated the attic to todays standards, opened up cathedral ceilings, built a new deck and put in a new double door. The result is a new attic apartment that is completely separated from the rest of our house, as energy efficient as you can get with a 100 year old building, structurally sound, and much much better and bigger feeling that it was before.
Here are a few before and after photos. The befores were taken right before we bought the house when the previous tenant was in the process of moving out. The afters were taken while Heidi's sister Allissa was moving in:
Bathroom Before:

Bathroom After: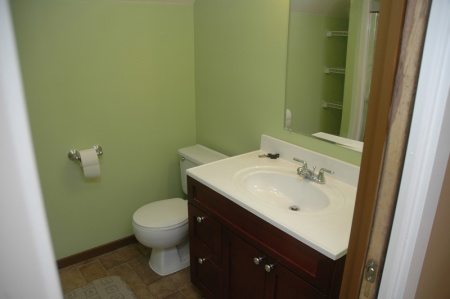 Living Room/ Bedroom Before: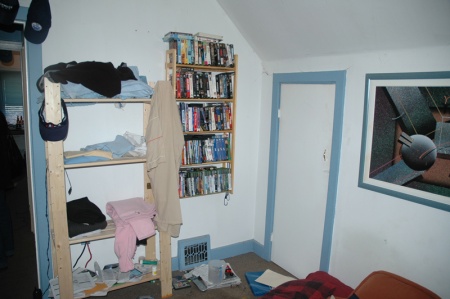 After (we moved the kitchen to this area):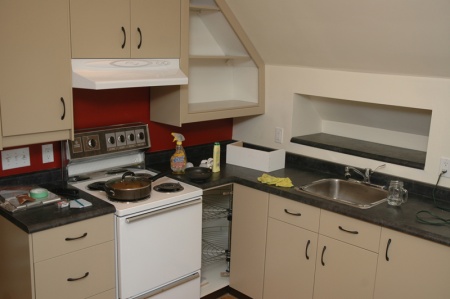 Entry Door Before (Into Living Room/Bedroom):

Entry Door After (Into New Kitchen):

Shoe Cabinet Under Entry Step;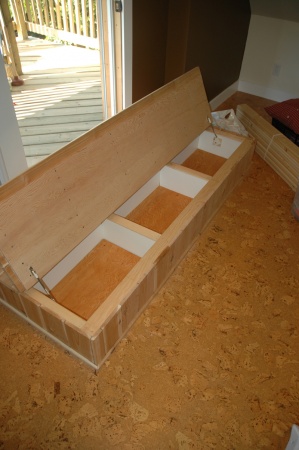 After (Now Living Room/Bedroom and Hallway ):

Kitchen Windows Before:

Windows After (Now in Living Room / Bedroom):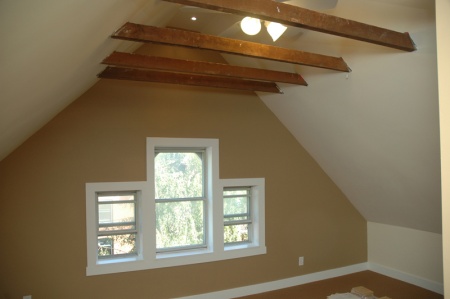 Now we are beginning to refocus on the renovation project we choose to do next. A couple of biggies on the horizon include removing the wall between our kitchen and dining room, remodeling the kitchen as a whole, upgrading some of the plumbing on the main floor, putting a bathroom on the main floor, as well as painting the rest of the rooms on our 1st and 2nd floor. Its good to know the days of climbing up and down the attic stairway with arms full of building materials and tools are over!