It's been a busy 2 weeks! On Saturday Sept 8, I dropped Reub off at the Buffalo airport and he left for California. I spent a good deal of the weekend with my mom, sister and 2 nephews while Reuben spent time with Paul and Ashley Olsen, Jack and Jazz Maatman and Justin and Erin VandeKerk. Here's a picture of him with Paul:
Update on Eden's Weight: She gained 1 1/4 lbs in 5 days. She weighed in at 13 lbs 2 oz today when she got weighed and a before-and-after showed that she got 4 1/2 oz of breastmilk at a feeding this afternoon. At first, it took about 45 minutes each time to feed Eden as I would breastfeed, bottlefeed, pump and then clean all the equipment. This would have been difficult had I left for California with Reuben on Saturday. It's easier now as my milk supply is almost keeping up with her and she doesn't need a bottle for each feed. She's starting to get chunky around the knees and arms! I'm on a concoction of domparadine, blessed thistle and fenugreek to help increase the milk supply and it's working out great!
On Thursday, Sept 13, I flew out to California to meet up with Reuben and his parents. Eden was a wonderful traveler! Here she is sitting in an empty seat beside me:

We had a fun 5 days in California together as a family. We drove up to big bear lake for Beka and Craig's wedding. The twisty road up to big bear made me so sick (thanks for the gravol jazz!). There was a fire in a nearby town that we watched all weekend, planes and helicopters were in the air all the time. On Saturday morning, we had a great hike up a mountain, and Eden came in the moby!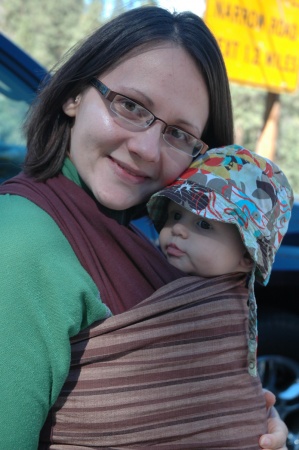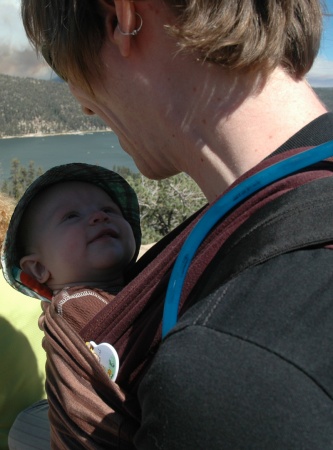 Have to finish post as eden is waking up. Here's some pics of the beautiful wedding: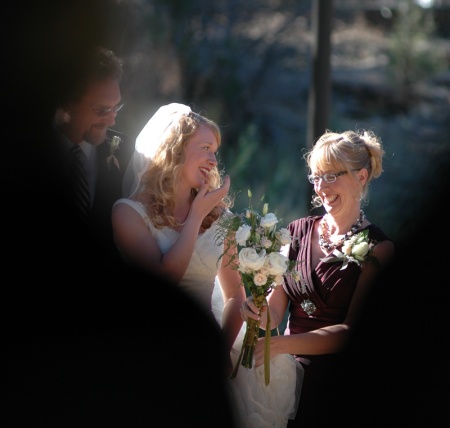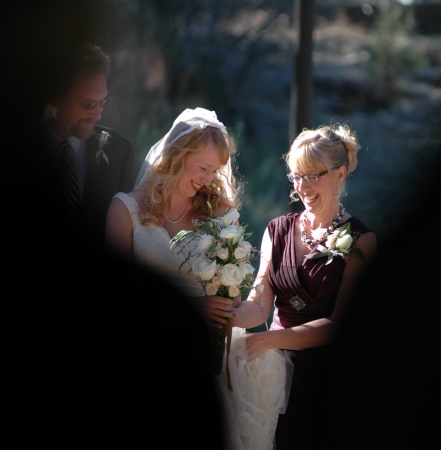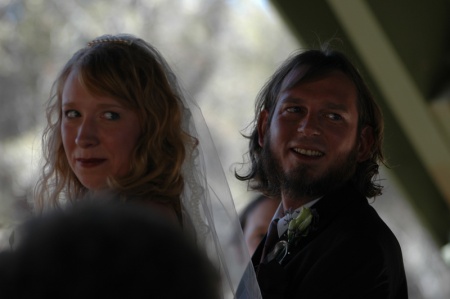 Here's one of the maatmans with us and one of justin with eden:
And here's some videos: